It is not easy to effectively capture the users' attention in the digital ecosystem; hence, Programmatic Advertising comes to the rescue. Millions of websites, apps, and other digital properties are available and are being viewed each day. It is important and highly tiring to use different platforms and select the best places to put these ads in the digital space. The automated solution for purchasing and selling online advertising is Programmatic advertising. This makes transactions both easier and more effective to streamline the process and putting the entire digital advertising efforts into one technology platform. The platforms have been growing their inventory and database so that any format and channel can be accessed in a programmatic way that includes mobile, desktop, tablet, audio, digital outdoor, and more. With the purpose of segmenting audiences, the targeting tactics are used with data to make sure that advertisers only pay for the ads delivered to the right audience at the right time and the "spray and pray" method of digital advertising is less dependent on. The developments and algorithms make ad buying, placement, optimization processes more efficient and eliminate mundane activities and time on the market. In this article, you will see the CPM rates offered for Programmatic Advertising across different segments.
Publishergrowth: The Revenue Acceleration Platform for Publishers
Blognife is elated to announce the launch of Publisher Growth- a community of publishers that helps you actively accelerate your revenue. This platform assists publishers in growing their traffic and revenue. As publishers, you can share and read reviews of ad networks and hosting companies. You can connect with other publishers to build links for growth and monetization hacks and more. This platform will help you stay up to date with the advertising and publisher ecosystem.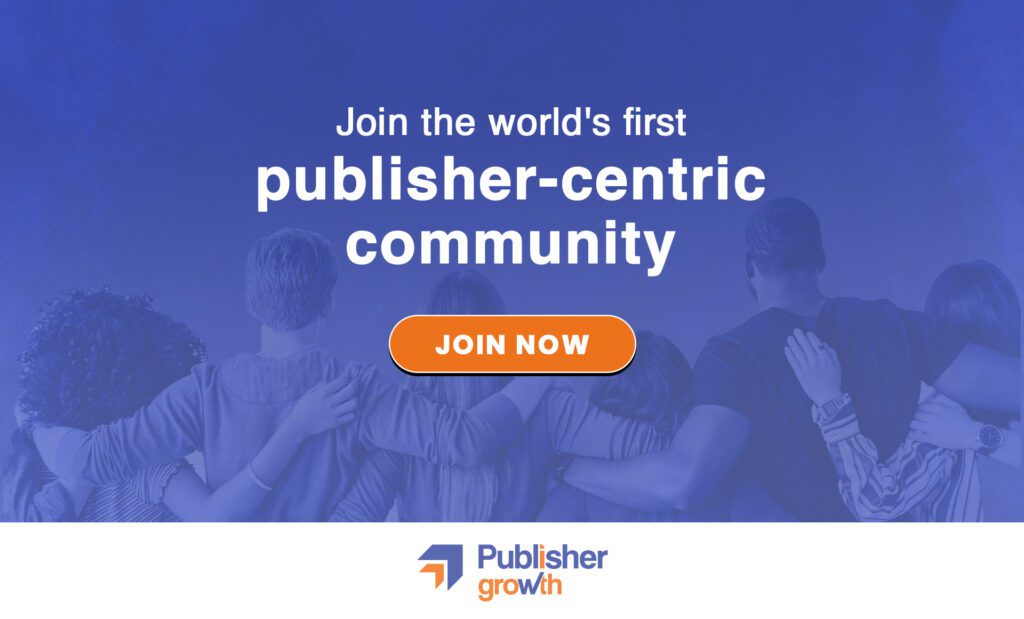 Features:
List of 200+ ad networks to monetize your site across all verticals.
Personalized site audit upon signing up on the platform that can increase your revenue.
Find all upcoming adtech conferences, webinars, and events in one place.
Stay informed with the latest adtech news across the globe.
Programmatic Ad CPM Rates by Country 2023
Here, you can see that we have segmented the CPM rates you can get from programmatic ads by country.
| | | | |
| --- | --- | --- | --- |
| SL NO | COUNTRY | CPC RATES ($) | CPM RATES ($) |
| 1. | INDIA | 0.015 | 0.12 |
| 2. | UNITED STATES | 0.50 | 3 |
| 3. | BANGLADESH | 0.005 | 0.05 |
| 4. | UNITED KINGDOM | 0.12 | 1.2 |
| 5. | PAKISTAN | 0.006 | 0.08 |
| 6. | INDONESIA | 0.02 | 0.22 |
| 7. | PHILIPPINES | 0.03 | 0.35 |
| 8. | UAE | 0.05 | 0.70 |
| 9. | CANADA | 0.15 | 2 |
| 10. | AUSTRALIA | 0.30 | 2.8 |
| 11. | SOUTH AFRICA | 0.05 | 0.80 |
| 12. | SAUDI ARABIA | 0.03 | 0.30 |
| 13. | SRI LANKA | 0.008 | 0.12 |
| 14. | EGYPT | 0.008 | 0.15 |
| 15. | ITALY | 0.05 | 0.30 |
| 16. | NIGERIA | 0.01 | 0.15 |
| 17. | GERMANY | 0.06 | 0.90 |
| 18. | SINGAPORE | 0.10 | 0.95 |
| 19. | MALAYSIA | 0.04 | 0.30 |
| 20. | NETHERLANDS | 0.03 | 0.30 |
| 21. | TURKEY | 0.015 | 0.10 |
| 22. | NEPAL | 0.005 | 0.10 |
| 23. | IRELAND | 0.06 | 0.70 |
| 24. | FRANCE | 0.05 | 0.60 |
| 25. | MOROCCO | 0.012 | 0.15 |
| 26. | SPAIN | 0.02 | 0.20 |
| 27. | KOREA | 0.04 | 0.30 |
| 28. | RUSSIA | 0.015 | 0.15 |
| 29. | CHINA | 0.02 | 0.20 |
| 30. | HONG KONG | 0.10 | 1.0 |
| 31. | QATAR | 0.02 | 0.20 |
| 32. | THAILAND | 0.04 | 0.35 |
| 33. | IRAQ | 0.015 | 0.15 |
| 34. | KUWAIT | 0.02 | 0.20 |
| 35. | PORTUGAL | 0.025 | 0.25 |
| 36. | VIETNAM | 0.020 | 0.20 |
| 37. | OMAN | 0.03 | 0.30 |
| 38. | BRAZIL | 0.04 | 0.50 |
| 39. | ISRAEL | 0.02 | 0.25 |
| 40. | POLAND | 0.02 | 0.200 |
| 41. | TAIWAN | 0.09 | 0.70 |
| 42. | KENYA | 0.025 | 0.20 |
| 43. | JORDAN | 0.025 | 0.25 |
| 44. | NEW ZEALAND | 0.08 | 0.80 |
| 45. | JAMAICA | 0.02 | 0.30 |
| 46. | UKRAINE | 0.02 | 0.20 |
| 47. | BAHRAIN | 0.02 | 0.25 |
| 48. | SWEDEN | 0.08 | 0.90 |
| 49. | ROMANIA | 0.02 | 0.20 |
| 50. | JAPAN | 0.03 | 0.40 |
Programmatic Ad CPM Rates in India: 2022-2023
Given that India is not precisely the most idealistic country for traffic, it is pretty evident that they do not have the best CPM rates to offer. However, they offer a CPM rate that can go from over 50 cents to 1 USD, which is pretty good compared to what is being provided to other countries around Asia.
Programmatic Ad CPM Rates in the US: 2022-2023
For tier 1 countries, the CPM rates are phenomenal. They receive the best of the lot, and you see exceptional revenues from CPM at the end of each month if you have a good amount of traffic from the tier one countries, especially the USA. The CPM rate they get for Programmatic Ads is pretty good. It can be anywhere from USD 3 to USD 6, depending on a variety of factors.
Programmatic Ad CPM Rates in the UK: 2022-2023
The UK is another country you want decent traffic from if you wish to see good CPM revenues. One of the easiest ways to increase revenue is to target an audience in these countries and find out the prevalent niches here. For the UK again, the CPM rates are pretty good and can be in the range of USD 2 to 4.
Programmatic Ad CPM Rates in Indonesia: 2022-2023
As you must have noticed, countries around Asia and the Pacific region do not get the most inexplicable CPM rates, and they are usually on the lower side. Even though countries like Indonesia and India get the better of the lot, it is not great. The CPM rate for Programmatic ads for traffic from Indonesia is in the range of 10 cents to 50 cents/
Programmatic Direct CPM Rates: 2022-2023
If you use programmatic direct, you can make sure that the transaction for the ad or the agreement can take place directly between the advertiser and the publisher via some ad-buying system. They can contain different types of auction deals like preferred deals or programmatic guaranteed or non-guaranteed deals. They ensure that the premium space is filled, which would bring higher yields compared to the open market. It gives the publisher a better understanding of the inventory type and audience that the advertiser wishes for and hence, would have better control and insight. It is a more transparent system that would help the publishers largely.
Programmatic Guaranteed CPM Rates: 2022-2023
These are essentially deals where the buyer directly purchases the inventory from the publisher. There is an understanding where the buyer agrees to buy a particular number of impressions, which the publisher ensures a guaranteed price. It was recently reported that over 58% of all display advertising uses programmatic guaranteed deals, and it is estimated for a market of over 27 billion USD in the USA alone. The guaranteed deals will help you increase your revenue and access premium advertisers who look for high ad inventory volumes and pay a premium price. It brings security for your business too.
Preferred Deals CPM Rates: 2022-2023
This is another kind of agreement between the buyer and the publisher to give preferential access to the publisher's inventory prior to its auction in the open market. The access is provided in exchange for a fixed CPM. So, essentially, you are only providing an opportunity to a select advertiser to purchase your inventory, but it is not confirmed that they would buy it. It would bring you a fixed CPM from the buyer and a premium price. You would not be dependent on only one buyer, and you can always put it on the open market.
How to Increase Programmatic Ad CPM Rates?
You must have understood that there are many players on both the demand and the supply side. The programmatic revenue that the publisher receives is half and sometimes even lower than what the advertisers spend. In situations like Trading Desk, SSP, or Exchange, where there are three or four intermediates, each one takes a revenue cut of 20% each, and the publisher is left with only 40% of what the advertiser spends. You would see the publisher getting only 30% of what the advertiser spends pretty regularly. The adtech ecosystem makes it easier for intermediaries to receive better, and the gap is expected to reduce as private marketplaces become the norm.
Increasing CPM rates is a challenge, especially for the content if purchased at a network level, which means that many ad networks and exchanges are buying traffic consistently. In addition, each exchange has its algorithm for the purchase. This makes it challenging to increase CPMs, but there are some things you can do:
Make sure your page has a high loading speed
Ad slots in optimized numbers
Keep ads highly visible and monitor ad zones for viewability
Make sure that the ads refresh automatically and high competition for DFP
Use exchange bidding and DFP First look
Use header bidding solution for better revenue
Optimize keywords in the content for high bid rates
High CPM Niches for Programmatic Advertising
The CPMs are primarily dependent on the niche of the website. For niches like insurance and finance, you will get the highest CPMs of around USD 5 to USD 8. In general, the rates offered on programmatic ads are 50% higher than what you get out of traditional banner ads, and you can get similar results if you use header bidding solutions. If you want better revenues from programmatic ads, you could set up your bidder and work with technology partners for better returns.
Best Ad Networks to Boost Your Overall Revenue
I have tried a number of ad networks and finally found these ad networks to be a perfect choice for most of the websites. The code installation is like a breeze and you can see your earnings from day one onwards. Makesure you give them a months time for the demand to pick up and optimizations to kick in.
1. Setupad: Best High-Paying CPM Ad Network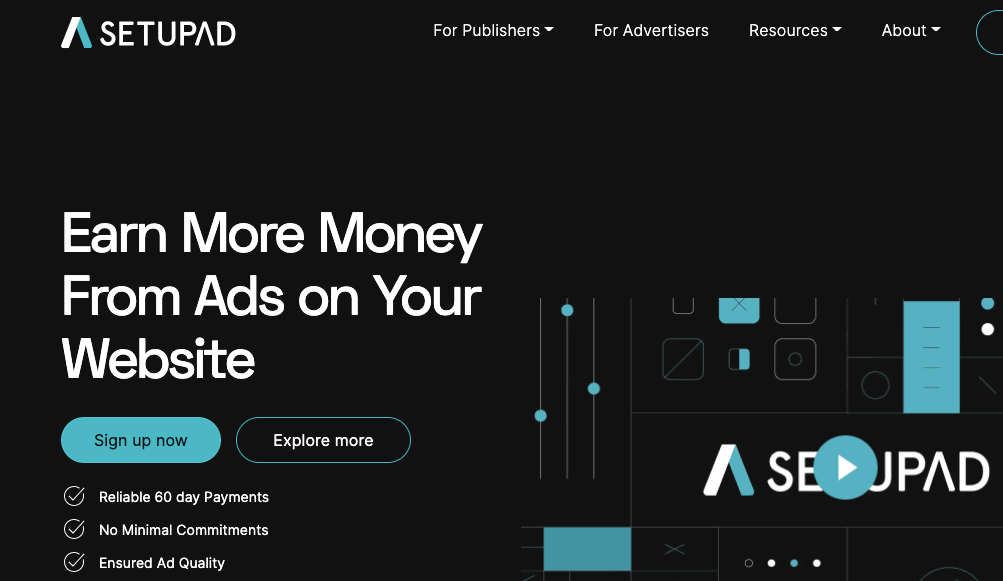 Setupad is one of the best website monetization platforms to increase ad revenue. You are assured of a dedicated account manager that helps you through the onboarding process and continuous monetization improvements, and you can benefit from their unique demand, top SSPs, DSPs, and preset programmatic Deals.
Eligibility Criteria for Publishers: Publishers must have a minimum of 100k worldwide visitors, with a significant portion originating from tier one countries such as the United States, United Kingdom, Canada, and Australia.
Features: header bidding, multiple SSPs, auto-refresh ads, lazing loading ads
Recommend for: For better monetization, websites with a high volume of the US or tier one traffic are recommended.
Payment: NET 45-60 days
Additional Note: Their integration is pretty quick and easy. They run header bidding, so you'll have access to many SSPs with just a line of their code.
2. Mgid: Best Native Ad Network for Publishers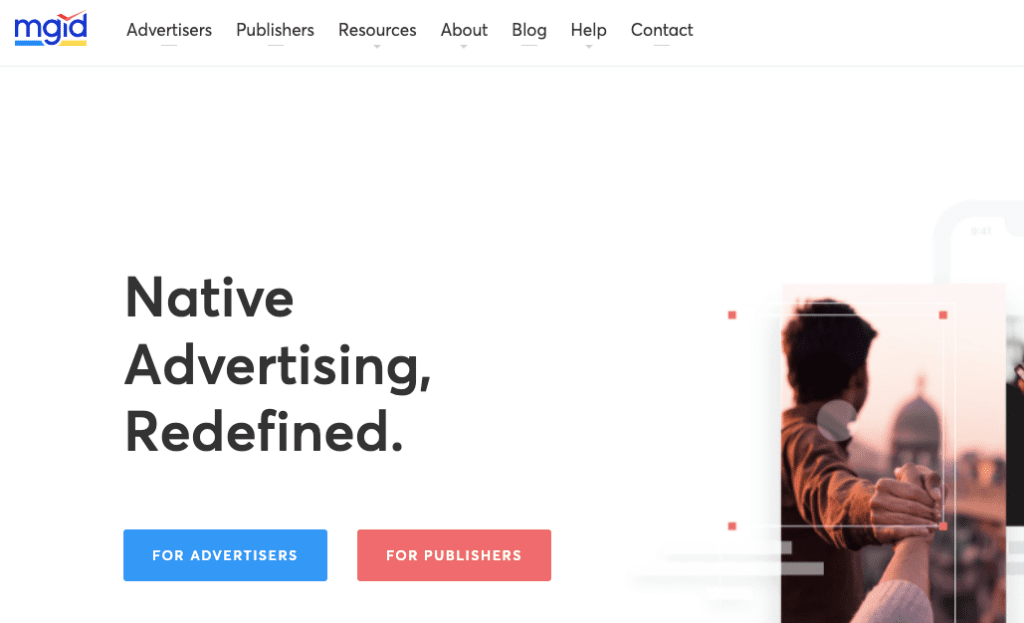 Mgid helps publishers generate the highest revenue yield with their native ad solutions. It gives publishers 100% control over their audience, empowering them with technology to engage and retain users, generate revenue streams from direct advertisers and build their monetization strategies with robust analytics.
Eligibility Criteria for Publishers: Publishers should have decent traffic from tier 1, tier 2, or tier 3 countries.
Features: Mgid provides a native advertising widget that can be integrated into any website.
Recommend for: For better monetization, websites with a high volume of the US or tier one traffic are recommended.
Payment: NET 30 days
Additional Note: You can run their native advertising widget and other native ad partners for better monetization.
3. iZooto: Incremental Push Revenue for Publishers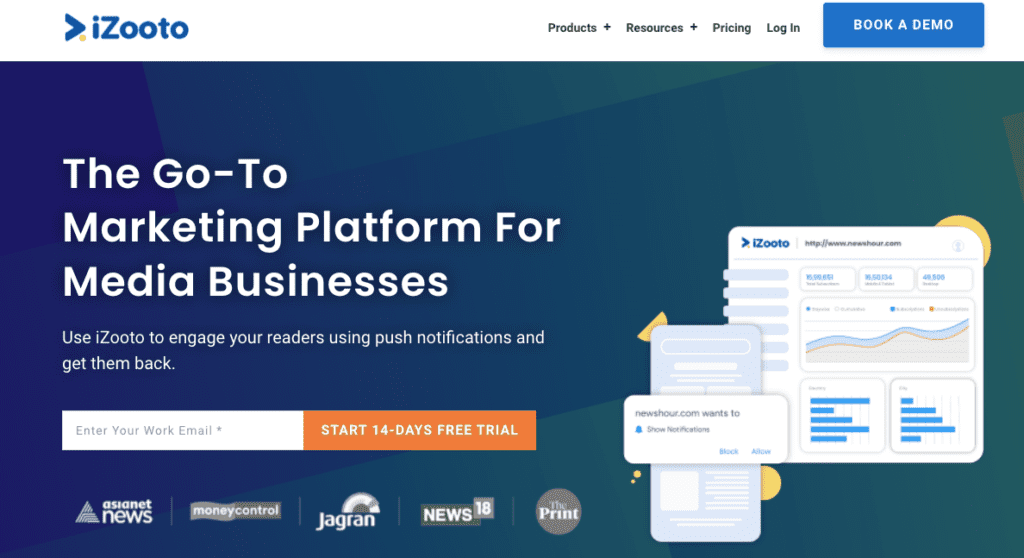 iZooto helps publishers build an audience and drive user engagement with web push notifications. iZooto allows publishers to tap into web push notifications for driving traffic and monetization using native content ads. iZooto is essentially a marketing stack for publishers that helps them build and own their audience.
Eligibility Criteria for Publishers: To be eligible for an authorized iZooto account to begin monetizing, publishers must have a minimum of 100k monthly US page views.
Features: increase website page views with targeted push notifications and monetizes our subscriber list with native ads
Recommend for: For better monetization, websites with a high volume of the US or tier one traffic are recommended. News verticals tend to perform best.
Payment: NET 60 days
Additional Note: Since iZooto is a self-serve site, it's simple to sign up. However, you must have at least 5,000 US push subscribers to see some revenue coming.
Wrap up
You must have walked through the entire process of programmatic advertising and how you make it better by now. Programmatic advertising has several benefits like it is suitable for your budget, and machine learning makes it efficient to optimize campaign success and not have ineffective inventory. In addition, you have streamlined campaign management, better targeting, and can easily access ad inventories. This makes it an effective solution for marketers to effectively reach the most influential audiences and cater to better results. I hope this helps.
Our Recommended Tools for Publishers:
Looking to Increase your Ad Revenue:
Get in touch with me for a personalised consultation and increase your ad revenue across native, display, video (instream and outstream), in-app and other verticals. I also assist in customized DFP setup, header bidding, and content creation strategy. My skype id is:
ronniedey
. Feel free to connect!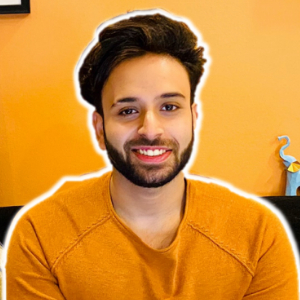 I and my team research various ad networks and can help you increase your overall Ad CPM Rates; so you could rake in more greenbacks with an increased website revenue. I am just a mail away, so reach out to me if you want to tap into the power of the online publishing business with me. mail: [email protected]