The internet space has engulfed and incorporated all the sectors within it to coexist and help better. The same is applicable to the advertising industry. While everything previously was limited to newspapers and radios, the world changed with the advent of television advertising and then internet advertising took everyone by shock. Now, mobile advertising is the sought-after trend that helps and assists all businesses immensely. A lot of ad formats and types have come up since its inception and have made advertising easy and better. Known to be the source of excellent quality of traffic across all the popular business verticals, Push notification is the comparatively newer ad format. It fits the advertiser's marketing campaigns and seems like an excellent way to reach potential customers and engage them. Push ads are the representatives of premium advertising units that are highly suited for mobile devices. In this article, we will discuss push notification ads at length and their CPM rates for different countries.
Publishergrowth: The Revenue Acceleration Platform for Publishers
Blognife is elated to announce the launch of Publisher Growth- a community of publishers that helps you actively accelerate your revenue. This platform assists publishers in growing their traffic and revenue. As publishers, you can share and read reviews of ad networks and hosting companies. You can connect with other publishers to build links for growth and monetization hacks and more. This platform will help you stay up to date with the advertising and publisher ecosystem.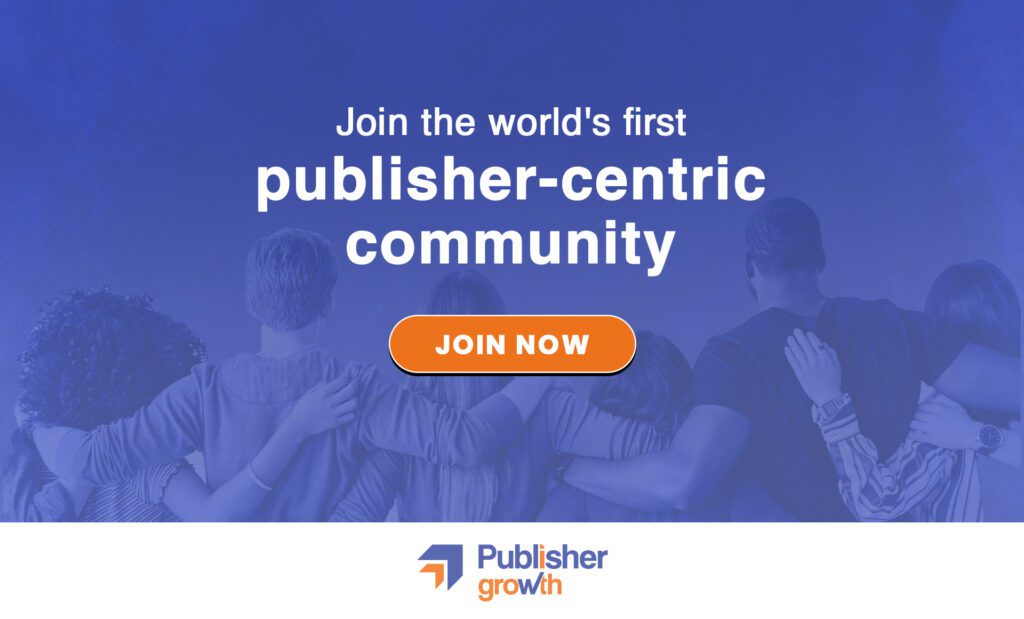 Features:
List of 200+ ad networks to monetize your site across all verticals.
Personalized site audit upon signing up on the platform that can increase your revenue.
Find all upcoming adtech conferences, webinars, and events in one place.
Stay informed with the latest adtech news across the globe.
Understanding Push Notification Ads: Overall Benefits
The digital advertising niche has focused its entire attention and hype on push notification ads. It is quite similar to pop ads or native ads with respect to the manner in which the users engage with the ads or how the ad copy is written.
An average push ad would consist of a short notification message with an icon that appears on the user's screen as soon as it is triggered. These ads instantly capture the user's attention at the right time and place.
You have to have a user-friendly and profitable advertising channel that would enhance communication with your potential and existing clients.
Push notification ads are very effective and efficient because they assure high-quality traffic and limit and mostly entirely negate the possibility of fraud, which instantly positively affects the click-through rate and viewability.
Even with a small budget, you can get a great reach.
From the long-term perspective, you will see longer retention rates and the highest reach.
Your work would be lessened because they reduce manual work and increase efficiency with automated operations.
Push Notification Ad CPM Rates: By Country
In comparison with the conventional ad formats, you will find that push notification ad have a higher CTR. It is important to remember that these ad networks either pay you a lifetime on the basis of revenue share in accordance with the ad impressions or at a flat subscriber rate. Some networks offer flat subscriber rates according to audience data, so one must keep an eye out for that and most networks work in accordance with a black box as publishers have a minimal idea of the transactions that happen behind the scene. The CPMs offered by them are pretty good. You can expect the least of 30 cents as CPM and it goes highest as you move up the chain of tiered countries.
| | | |
| --- | --- | --- |
| SL NO. | COUNTRY NAME | PUSH AD CPC RATES |
| 1. | UNITED STATES OF AMERICA | $0.20 |
| 2. | INDIA | $0.01 |
| 3. | UNITED KINGDOM | $0.05 |
| 4. | AUSTRALIA | $0.15 |
| 5. | CANADA | $0.22 |
| 6. | SOUTH AFRICA | $0.04 |
| 7. | JAPAN | $0.05 |
| 8. | INDONESIA | $0.02 |
| 9. | PHILIPPINES | $0.02 |
| 10. | PAKISTAN | $0.01 |
| 11. | BANGLADESH | $0.01 |
| 12. | NIGERIA | $0.02 |
| 13. | BRAZIL | $0.03 |
| 14. | RUSSIA | $0.04 |
| 15. | MEXICO | $0.03 |
| 16. | EGYPT | $0.02 |
| 17. | VIETNAM | $0.02 |
| 18. | IRAN | $0.04 |
| 19. | TURKEY | $0.03 |
| 20. | GERMANY | $0.10 |
How to Increase CPC and CPM Rates of Push Notification Ads?
One of the easiest ways to increase your CPM rates is to attract traffic from tier 1 countries and work on the niche that would attract it. Generally, the rule is that what works for pop-up advertising will work better for push notifications ad but the only issue is that push ads are limited with respect to volume and pop generates billions and billions of ad requests regularly. Push notifications are a new and growing trend and would take months to set up enough volume to scrape the volume level pop inventory has reached.
However, there is a lot of volume for the right bid and targeting and with those, you will have a better shot at the conversion of users for your products. Keep in mind that some of the best verticals that work really well are Finance, Gambling, Dating, Travel, Mobile Content, and Entertainment.
Best Push Notification Ad Networks to Monetize Your Traffic: 2023
You can use more than one push notification service on your website to monetize your website audience who opt to subscribe to push notifications. This is an ongoing recurring revenue in addition to banner, native, or video ad placements and is highly recommended.
1. iZooto: Incremental Push Revenue for Publishers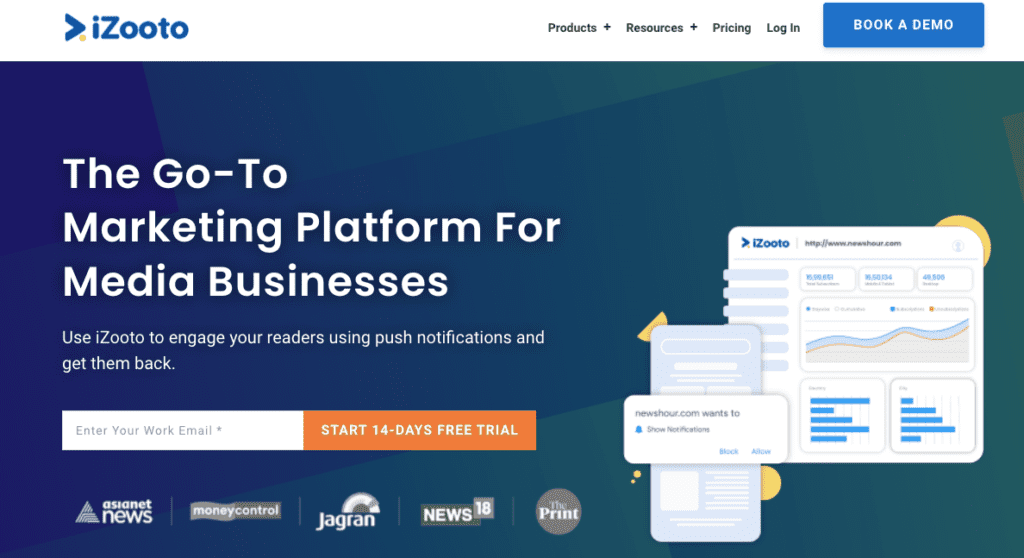 iZooto helps publishers build an audience and drive user engagement with web push notifications. iZooto allows publishers to tap into web push notifications for driving traffic and monetization using native content ads. iZooto is essentially a marketing stack for publishers that helps them build and own their audience.
Eligibility Criteria for Publishers: To be eligible for an authorized iZooto account to begin monetizing, publishers must have a minimum of 100k monthly US page views.
Features: increase website page views with targeted push notifications and monetizes our subscriber list with native ads
Recommend for: For better monetization, websites with a high volume of the US or tier one traffic are recommended. News verticals tend to perform best.
Payment: NET 60 days
Additional Note: Since iZooto is a self-serve site, it's simple to sign up. However, you must have at least 5,000 US push subscribers to see some revenue coming.
2. uNative: Maximize your Push Revenue with Global Fills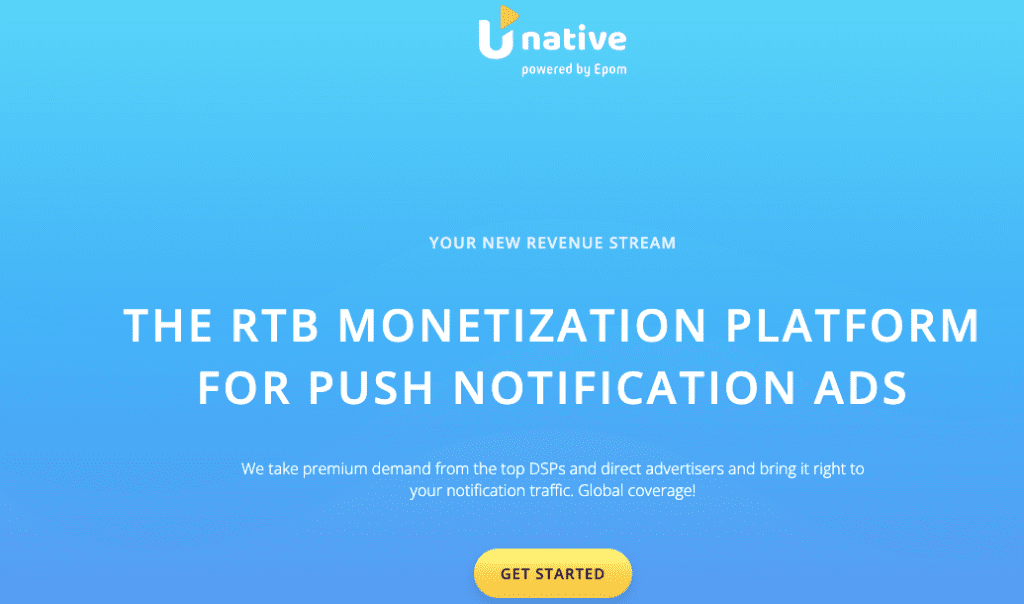 uNative is a platform created by Epom to help publishers earn from day one. You can customize the number of ads that can be pushed to your subscribers and also you can directly send push notifications.
Eligibility Criteria for Publishers: There are no minimum eligibility criteria for publishers to get started with uNative. However, I suggest you should have at least 1000 daily visitors.
Features: Increase website page views with targeted push notifications and monetizes our subscriber list with native ads
Recommend for: For better monetization, websites with a high volume of the US or tier one traffic are recommended. News verticals tend to perform best.
Payment: NET 0 days. The payment is processed within 24 hours once a request is raised.
That being said, it is pretty clear that push notification ads are a fairly new venture that is seeing a lot of attention and hype. It is already very efficient and has a good base of users. It has proved to work extensively well and provides excellent results. It might even turn out to be better than most conventional ad formats known to enterprises. Irrespective of that, this is worth the shot and will give excellent returns. You must have gotten a fair idea of how well push notification ads work. Hope this helps.
Our Recommended Tools for Publishers:
Looking to Increase your Ad Revenue:
Get in touch with me for a personalised consultation and increase your ad revenue across native, display, video (instream and outstream), in-app and other verticals. I also assist in customized DFP setup, header bidding, and content creation strategy. My skype id is:
ronniedey
. Feel free to connect!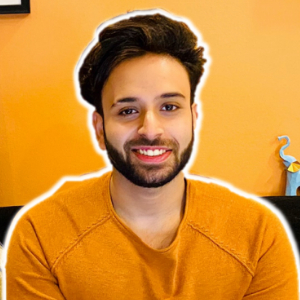 I and my team research various ad networks and can help you increase your overall Ad CPM Rates; so you could rake in more greenbacks with an increased website revenue. I am just a mail away, so reach out to me if you want to tap into the power of the online publishing business with me. mail: [email protected]