AdSense is one of the most lucrative monetization platforms for publishers. For niche content websites, the network delivers the highest CPC and can monetize 100% of the audience. In this post, we will be listing down the AdSense CPC rates by country so that you can have a fair bit of idea about the cost per click of various geographies around the globe. The table below will give you an idea of the CPC rates of the country. The data is based on one of my educational blogs, which mainly monetizes through AdSense.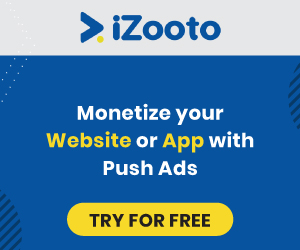 The table below shows country-wise CPC rates of AdSense ads. You can sort the CPC and CTR tab to see which countries have the highest CPC and CTR. Apart from site-specific constraints, the CTR of some countries is usually high while some other countries have lower CTRs.
AdSense CPC Rates by Country: 2020-2021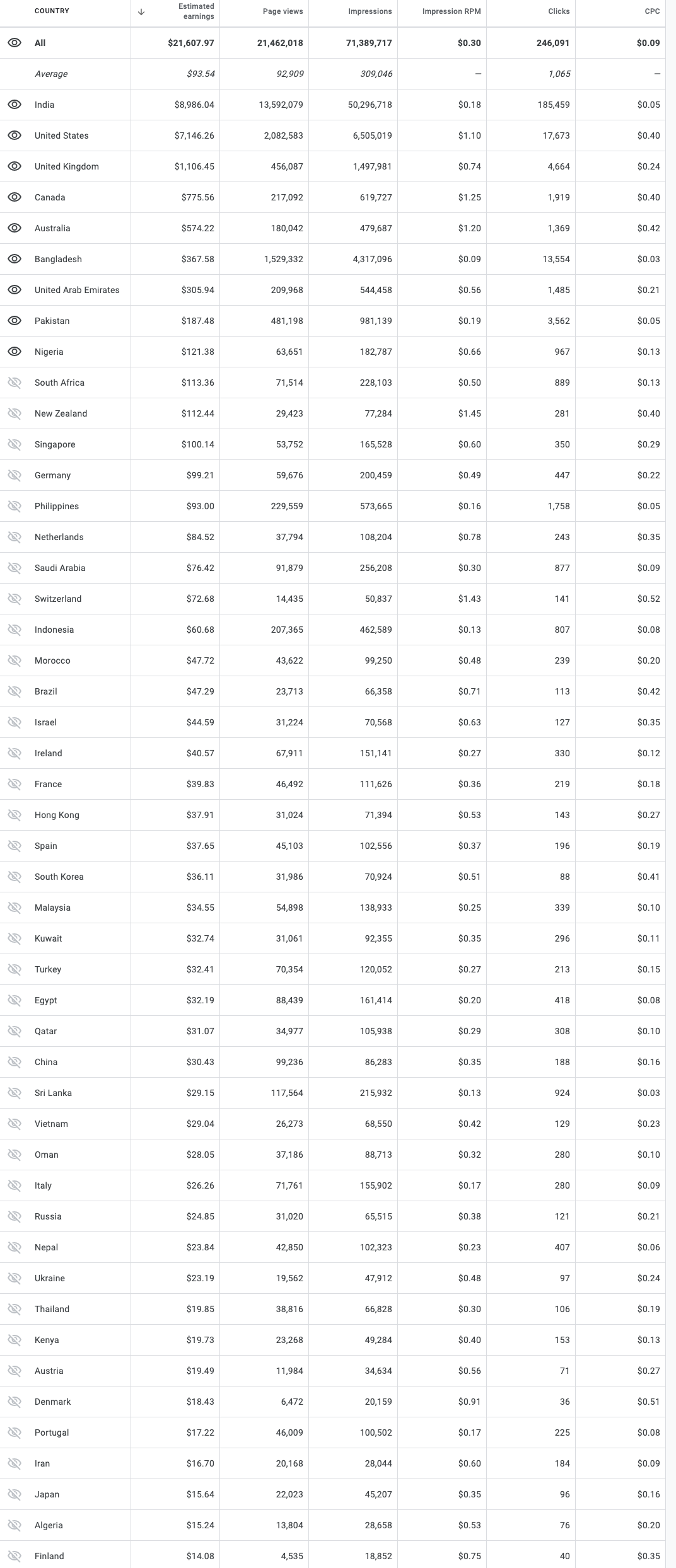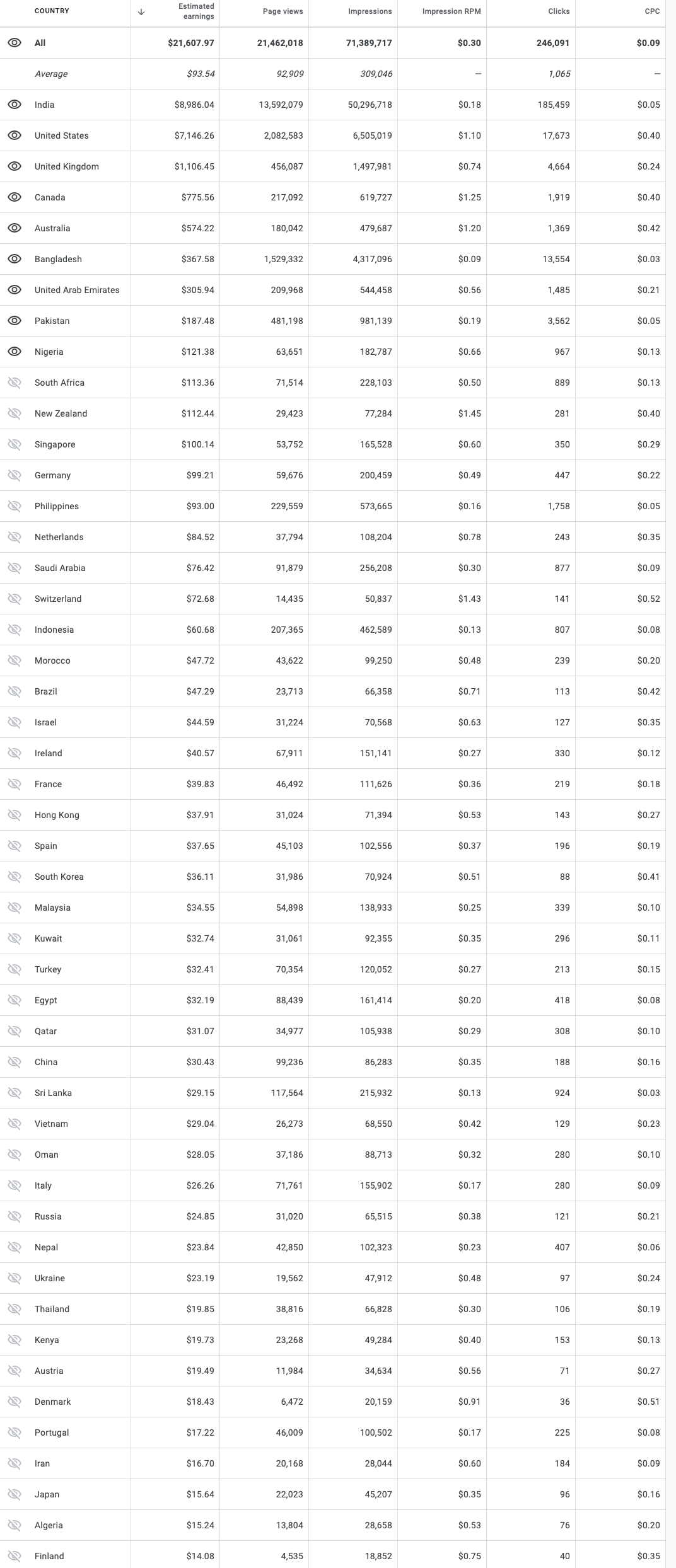 AdSense CPC Rates for Tier 1 Countries
If you've traffic coming from tier 1 countries, you can earn some good CPCs, usually around 30 cents and more. However, in some of the countries, the CTR is comparatively lower than in others. Additionally, some countries will have a consistent CPC of 30 cents and above. If you run a SAS niche site, then the average CPC for tier one traffic can go above $1. Here is a list of niche which drives the highest CPC. The image below is consolidated data from one of my education blogs that have the majority of its traffic from India.

AdSense CPC Rates for Tier 2 Countries
The CPC rates of tier 2 traffic vary a lot and depend on the website's niche, the conversion rate, and the quality of the traffic. The CPCs are usually in the range of 5 cents to 15 cents. Again, this can increase or decrease depending upon the niche and content of the website.
AdSense CPC Rates for Tier 3 Countries
Tier 3 countries have the lowest CPC and usually range from around 2 cents to 3 cents. This is due to fewer advertisers targeting tier 3 countries or maybe because the advertising ecosystem is still very new. However, over the years, we can expect the CPC for such geographies to rise as digital marketing continue to penetrate.
Average Cost Per Click by Country
The data above in the table shows an average cost per click by country. However, median values are better since they don't take into account the outliers. Ensure there are enough impressions and clicks to give you a clear idea of the average CPC. Also, the average cost per click varies depending on the ad format (display, in-article, in-feed, linked units, matched content, auto ads, etc.) SO we can only have some idea of the gross numbers.
Recommended: AdSense Alternatives to Boost Your Overall Revenue
I have tried a number of ad networks and finally found these ad networks to be a perfect choice for most of the websites. The code installation is like a breeze and you can see your earnings from day one onwards. Make sure you give them a month's time for the demand to pick up and optimizations to kick in.
1. Setupad: Best High-Paying CPM Ad Network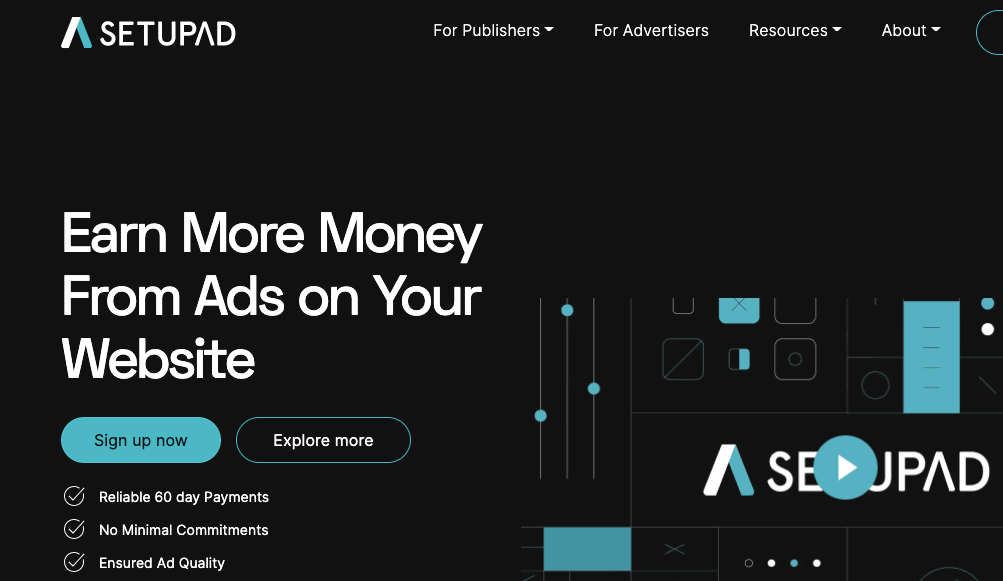 Setupad is one of the best website monetization platforms to increase ad revenue. You are assured of a dedicated account manager that helps you through the onboarding process and continuous monetization improvements, and you can benefit from their unique demand, top SSPs, DSPs, and preset programmatic Deals.
Eligibility Criteria for Publishers: Publishers must have a minimum of 100k worldwide visitors, with a significant portion originating from tier one countries such as the United States, United Kingdom, Canada, and Australia.
Features: header bidding, multiple SSPs, auto-refresh ads, lazing loading ads
Recommend for: For better monetization, websites with a high volume of the US or tier one traffic are recommended.
Payment: NET 45-60 days
Additional Note: Their integration is pretty quick and easy. They run header bidding, so you'll have access to many SSPs with just a line of their code.
2. Mgid: Best Native Ad Network for Publishers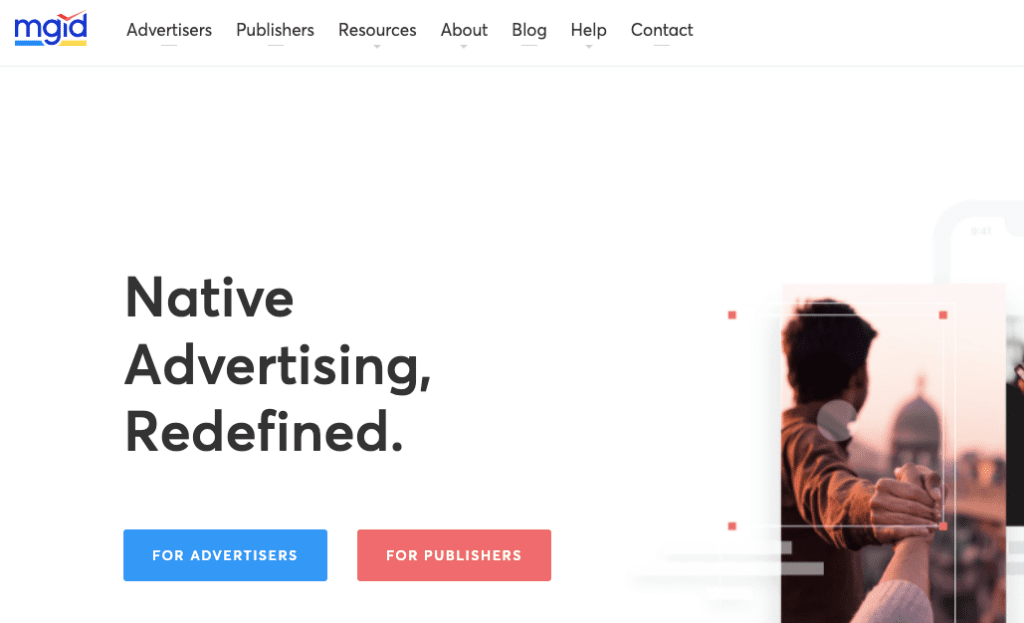 Mgid helps publishers generate the highest revenue yield with their native ad solutions. It gives publishers 100% control over their audience, empowering them with technology to engage and retain users, generate revenue streams from direct advertisers and build their monetization strategies with robust analytics.
Eligibility Criteria for Publishers: Publishers should have decent traffic from tier 1, tier 2, or tier 3 countries.
Features: Mgid provides a native advertising widget that can be integrated into any website.
Recommend for: For better monetization, websites with a high volume of the US or tier one traffic are recommended.
Payment: NET 30 days
Additional Note: You can run their native advertising widget and other native ad partners for better monetization.
3. uNative: Best Push Monetization Ad Network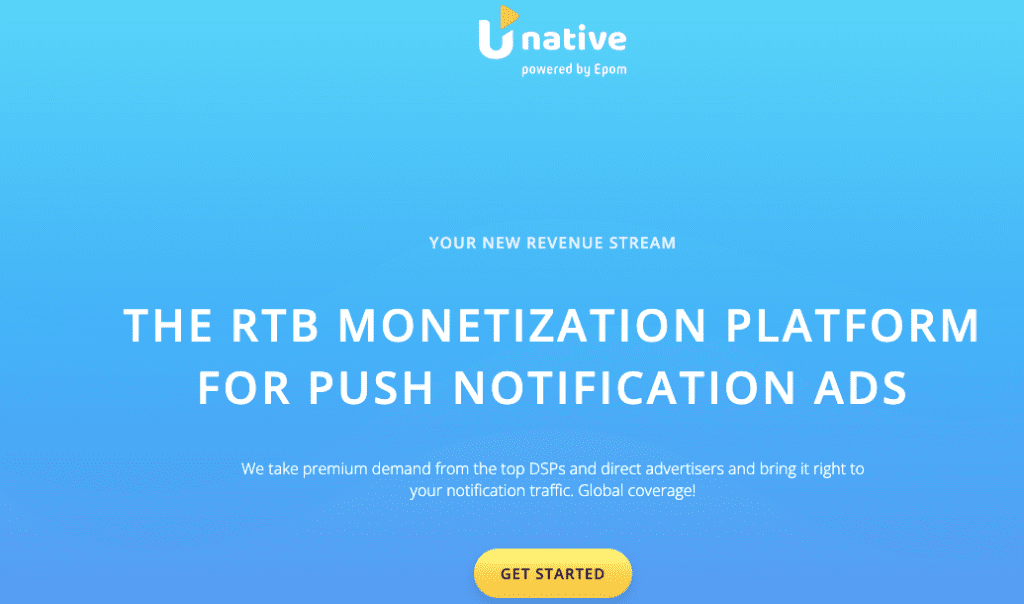 uNative is a platform created by Epom to help publishers earn from day one. You can customize the number of ads that can be pushed to your subscribers and also you can directly send push notifications. You need to create a stream, add a site URL, integrate the ad code, and upload a .js file on your website's root directly to get started.
Eligibility Criteria for Publishers: There are no minimum eligibility criteria for publishers to get started with uNative. However, I suggest you should have at least 1000 daily visitors.
Features: Increase website page views with targeted push notifications and monetizes our subscriber list with native ads
Recommend for: For better monetization, websites with a high volume of the US or tier one traffic are recommended. News verticals tend to perform best.
Payment: NET 0 days. The payment is processed within 24 hours once a request is raised.
How to Increase AdSense CPC Rates?
There are some quick implementations to increase your AdSense CPC and overall earnings. Please take note of the tips below and implement them to see a substantial increase in your revenue.
Incorporate relevant keywords in your content (keywords that advertisers are targeting)

Choose bigger ad sizes for increased competition

Place an optimum number of ads on your website

Monitor the CTR of the highest CPC ad, which is usually the first visible ad on your website as you scroll the webpage.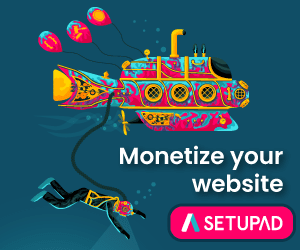 Once you are done with these quick fixes, you can see a significant increase in your AdSense earnings.
Our Recommended Monetization Partners:
Looking to Increase your Ad Revenue:
Get in touch with me for a personalised consultation and increase your ad revenue across native, display, video (instream and outstream), in-app and other verticals. I also assist in customized DFP setup, header bidding, and content creation strategy. My skype id is:
ronniedey
. Feel free to connect!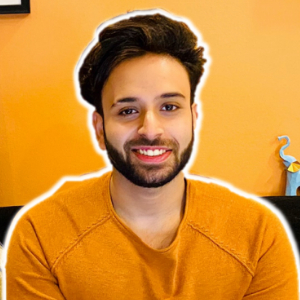 I and my team research various ad networks and can help you increase your overall Ad CPM Rates; so you could rake in more greenbacks with an increased website revenue. I am just a mail away, so reach out to me if you want to tap into the power of the online publishing business with me. mail: [email protected]