Display advertising is a way to attract the audience of a website, social media platform, or other digital mediums to act in a specific manner. These generally contain text-based, image, or video ads that make the user click and go to the landing page and take action. Most of such campaigns are charged based on CPC, so every time a user clicks on the ad, you earn. You can also use it for retargeting campaigns, which serve ads to users who have already used the website. The idea is to retarget them, make them return to the website, and take the same action. There are various display ads like banner ads, interstitial ads, rich media ads, video ads, and more. Given the diverse nature of display ads, you get the liberty to choose which form you want to advertise in. From your Google Ads Account, you can access millions of sites from Google Display Network. GDN has extensive reach, which helps target the right audience by placing the correct ads. In this article, you would extensively talk about Display Ads and the potential revenue you can generate from them by virtue of CPMs.
Publishergrowth: The Revenue Acceleration Platform for Publishers
Blognife is elated to announce the launch of Publisher Growth- a community of publishers that helps you actively accelerate your revenue. This platform assists publishers in growing their traffic and revenue. As publishers, you can share and read reviews of ad networks and hosting companies. You can connect with other publishers to build links for growth and monetization hacks and more. This platform will help you stay up to date with the advertising and publisher ecosystem.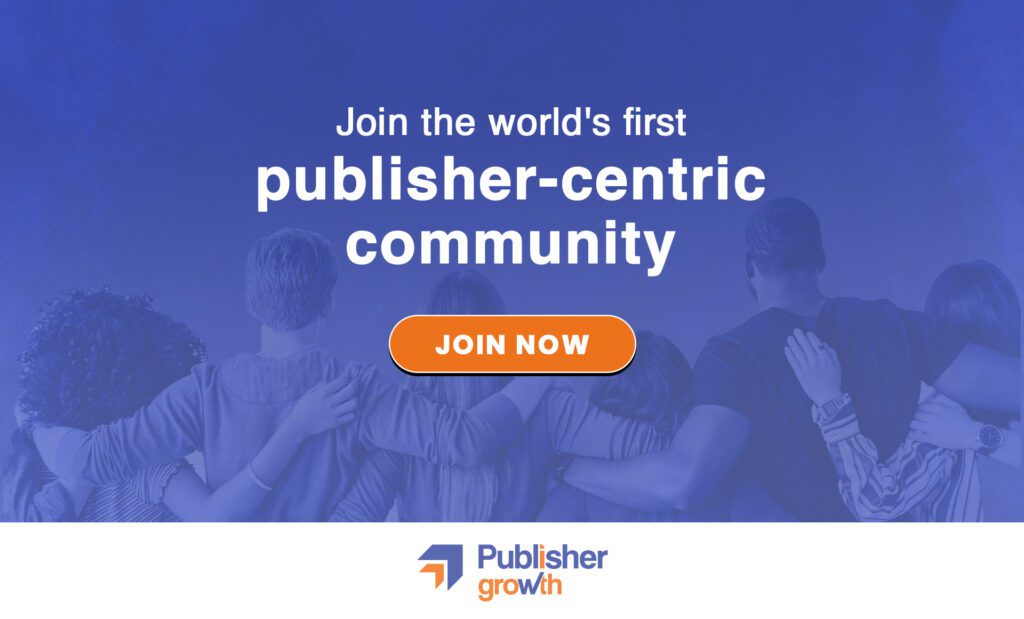 Features:
List of 200+ ad networks to monetize your site across all verticals.
Personalized site audit upon signing up on the platform that can increase your revenue.
Find all upcoming adtech conferences, webinars, and events in one place.
Stay informed with the latest adtech news across the globe.
Display Ad CPM Rates by Country 2023
Here, we would segment the CPM rates for display ads according to countries.
Display Ad CPM Rates in India 2023
You must remember that to reach its highest potential in terms of CPM, the display ad must be in a header bidding auction environment where the highest bidder will get the impression. If your site revolves around general purposes like news, entertainment, and such, the CPM would be around 10 to 20 cents. However, the average CPM one can expect would be about 10 to 50 cents. Also, the CPM can increase according to niches.
Display Ad CPM Rates in the US
You must know that tier 1 countries like the USA get the highest CPMs there are. They get an average CPM of 2.80 USD for display ads, and it increases according to the kinds of ads and the niches. They also get a pretty good average CPC of 75 cents. It is important to remember that the high CPM and CPCs indicate that they have high CTRs generally, and they have huge ad spends too.
Display Ad CPM Rates in the UK
The UK is another tier 1 country, and they also get pretty high CPMs. They get an average CPM of 1 to 2 USD for sites of general purposes like news, entertainment, and such. Even though their market is very similar to that of the US, they get lower CPM rates because of lower CTRs and comparatively lesser ad spends.
Display Ad CPM Rates in Indonesia
The CPM rates are generally meager in countries and places around the Asian and the Pacific region. However, countries like India and Indonesia still managed to get the better CPMs of the lot. For example, the Display ad CPM rates would be around 50 cents to 1 USD for Indonesian traffic and can go higher according to the niche.
Display Ad CPM Rates in Q1
For the first quarter, over 1.3 billion ad impressions and over 36 million clicks were analyzed. The average click-through rate on Google Display Network was 2.72%. The average CPM rate was 3.80 USD, and the average CPC was 1.46 USD.
Display Ad CPM Rates in Q2
Over 1.3 billion ad impressions and over 4.5 million clicks were analyzed to receive the following data in the second quarter. The median CPM was 7.77 USD, and the median CPC was a strong 64 cents. The CTR was almost 1.30%.
Display Ad CPM Rates in Q3
In the third quarter, the median CPM saw a significant plunge and went up to 11 USD. The average CTR was 2.35%.
Display Ad CPM Rates in Q4
The fourth quarter generally has the highest CPMs, and the same is expected for this year.
How to Increase CPM Rates for Display Ads?
The behavior of the user drives more revenue. As the ads on the websites appeal more, it is more likely that the user clicks on the ads and becomes repeated visitors. To increase the CPM rates for display ads, you must focus on- ad placements. You need to position your ads in a manner that the visitors see them and engage with them. You can create your search engine by using the Google custom search engine on your site, so you can trigger results by search queries and generate revenue. You can add additional features like link units combined with the Google ads and get extra revenue. You can add sponsored or in content widgets in high visibility areas, like between two paragraphs, to make it visible to banner blind visitors. The way you position your ads, and the ad's determination are essential to increase visibility and engagement. You can optimize it daily and observe how they perform, and wing it for yourself.
Best Performing Niches for High CPM Display Ads
The niches influence CPM rates a lot. Depending on the niches, you get the keywords you have to use in content and monetize it better. Therefore, you must actively try to find out the niches that work best and use them. You need to target the most relevant topics you can within your niche and produce the highest advertiser bids and compete with multiple bidders—however, niches related to technology, e-commerce, insurance, and fitness work excellently and drive good CPMs. In the fourth quarter, generally, the CPMs are the highest, and the same is expected for now. We recommend using Ezoic to increase your overall advertising revenue.
Best Ad Networks to Boost Your Overall Revenue
I have tried a number of ad networks and finally found these ad networks to be a perfect choice for most of the websites. The code installation is like a breeze and you can see your earnings from day one onwards. Makesure you give them a months time for the demand to pick up and optimizations to kick in.
1. Setupad: Best High-Paying CPM Ad Network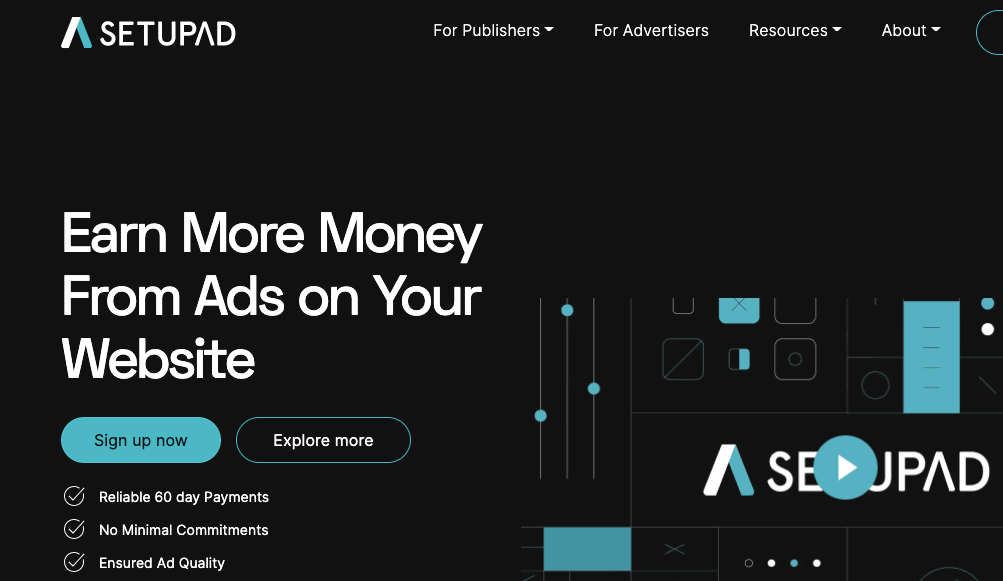 Setupad is one of the best website monetization platforms to increase ad revenue. You are assured of a dedicated account manager that helps you through the onboarding process and continuous monetization improvements, and you can benefit from their unique demand, top SSPs, DSPs, and preset programmatic Deals.
Eligibility Criteria for Publishers: Publishers must have a minimum of 100k worldwide visitors, with a significant portion originating from tier one countries such as the United States, United Kingdom, Canada, and Australia.
Features: header bidding, multiple SSPs, auto-refresh ads, lazing loading ads
Recommend for: For better monetization, websites with a high volume of the US or tier one traffic are recommended.
Payment: NET 45-60 days
Additional Note: Their integration is pretty quick and easy. They run header bidding, so you'll have access to many SSPs with just a line of their code.
2. Mgid: Best Native Ad Network for Publishers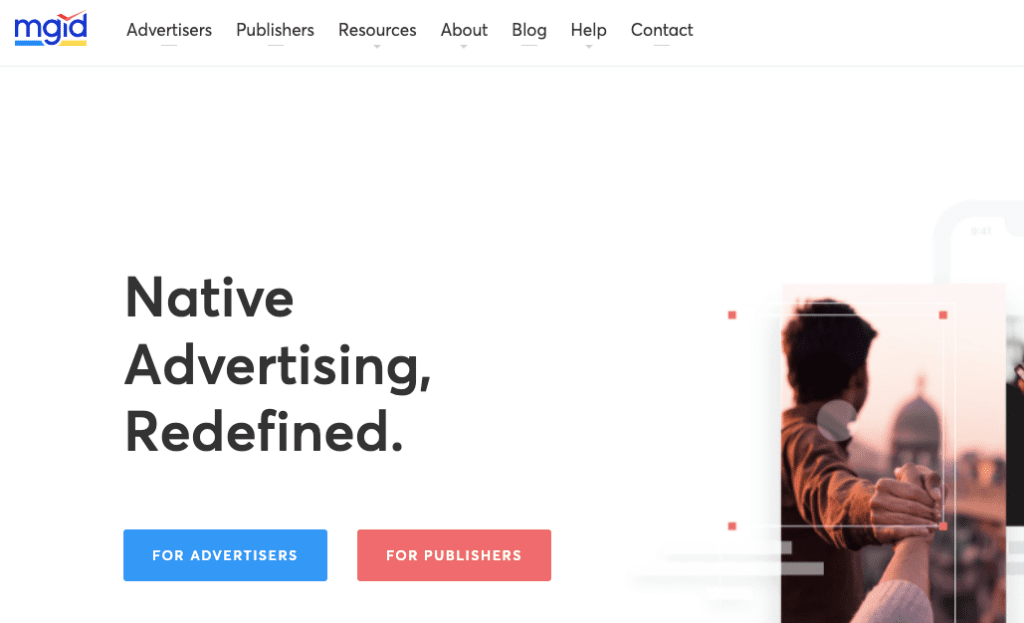 Mgid helps publishers generate the highest revenue yield with their native ad solutions. It gives publishers 100% control over their audience, empowering them with technology to engage and retain users, generate revenue streams from direct advertisers and build their monetization strategies with robust analytics.
Eligibility Criteria for Publishers: Publishers should have decent traffic from tier 1, tier 2, or tier 3 countries.
Features: Mgid provides a native advertising widget that can be integrated into any website.
Recommend for: For better monetization, websites with a high volume of the US or tier one traffic are recommended.
Payment: NET 30 days
Additional Note: You can run their native advertising widget and other native ad partners for better monetization.
3. iZooto: Incremental Push Revenue for Publishers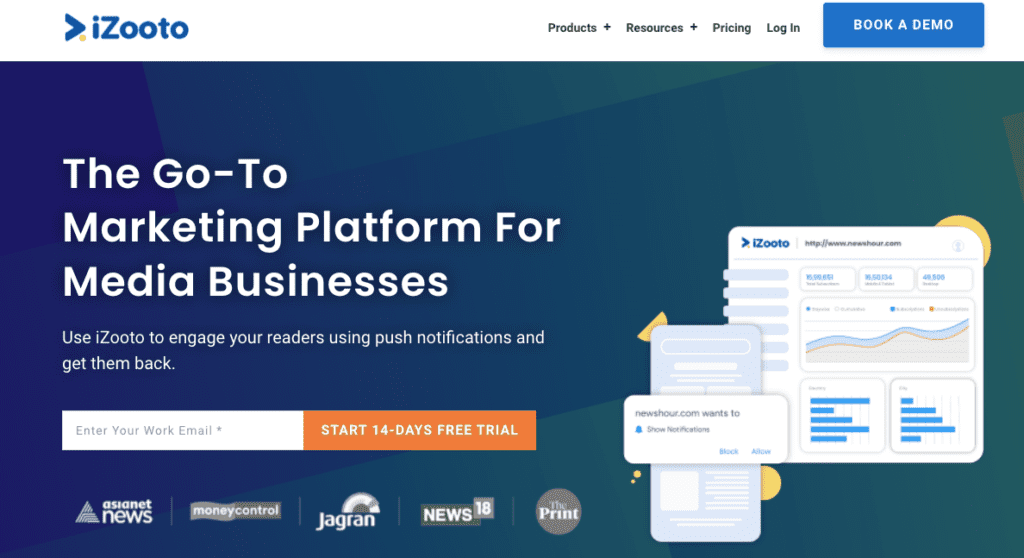 iZooto helps publishers build an audience and drive user engagement with web push notifications. iZooto allows publishers to tap into web push notifications for driving traffic and monetization using native content ads. iZooto is essentially a marketing stack for publishers that helps them build and own their audience.
Eligibility Criteria for Publishers: To be eligible for an authorized iZooto account to begin monetizing, publishers must have a minimum of 100k monthly US page views.
Features: increase website page views with targeted push notifications and monetizes our subscriber list with native ads
Recommend for: For better monetization, websites with a high volume of the US or tier one traffic are recommended. News verticals tend to perform best.
Payment: NET 60 days
Additional Note: Since iZooto is a self-serve site, it's simple to sign up. However, you must have at least 5,000 US push subscribers to see some revenue coming.
Wrap up
You must have gained an insight into how well display ads work and the CPMs you can get from them. Remember that they have their share of downfalls too. The prolific nature of display ads makes them easily ignorable and hence, gets lower click-through rates. Given the rise in ad-blocker technology, brands and media outlets try to circumvent it. However, they primarily work well, and if you focus on doing it right, you will receive great results. I hope this helps.
Our Recommended Tools for Publishers:
Looking to Increase your Ad Revenue:
Get in touch with me for a personalised consultation and increase your ad revenue across native, display, video (instream and outstream), in-app and other verticals. I also assist in customized DFP setup, header bidding, and content creation strategy. My skype id is:
ronniedey
. Feel free to connect!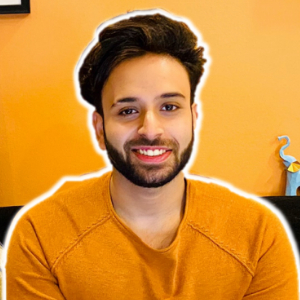 I and my team research various ad networks and can help you increase your overall Ad CPM Rates; so you could rake in more greenbacks with an increased website revenue. I am just a mail away, so reach out to me if you want to tap into the power of the online publishing business with me. mail: [email protected]